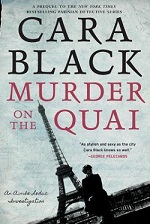 After 15 outings Paris PI Aimée Leduc gets an origin story.
It is 1989 and Aimée is not a confident crime solver, but a harried, heartbroken medical student. She is overwhelmed by the rigors of school, the cutthroat tactics of her classmates (often at her expense), and she is about to be unceremoniously dumped by her posh boyfriend (at least according to his mean-girl sister.) So it isn't surprising that when her father leaves her in charge of his detective agency while he travels to newly-unified Berlin on a mysterious errand, Aimée looks for something to distract her.

As her father prepares to leave, Elise – a distant relative unknown to Aimée – visits the office in tears begging him to find out why her father was shot and killed. He declines at first – she should let the police do their job, he says, but a large retainer check and a plea to just track down a woman who might know something makes him renege. He will locate the mysterious Suzy on his return from Berlin.
It was Elise's casual mention of having known Aimée's long-absent mother that prompts her to start digging into the case herself, hoping to use the opportunity to get any crumb of information about her mother.
Finding Suzy is easy enough, but it doesn't take long for the danger and the body count to start rising. Still Aimée can't help but delve deeper into the case, with ties to an incident involving a missing transport of Nazi gold in 1942 (told in alternating chapters),
"Murder on the Quai" is a satisfying mystery and as usual overflows with Black's evocative descriptions of contemporary Paris – or in this case, late 1980's Paris. Seeing young Aimée – already chic and obsessed with fashion and hot chocolate – find her true calling in the family business (despite her father's wishes to the contrary) is a treat. Fans will enjoy seeing where it all began, including how she met René. Readers new to this series can start at the beginning or start here – at the very beginning.
Happy Reading!
Published June 14, 2016
Soho Crime
An advance galley of this book was provided by the publisher in exchange for an honest opinion.