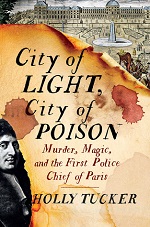 Combining the research skills of an academic and a storyteller's flair, Vanderbilt Professor Holly Tucker brings the crime-riddled Paris of the late 1600s to life in the excellent history "City of Light, City of Poison: Murder, Magic, and the First Police Chief of Paris." At its center is the "Affair of the Poisons" which touched both the glittering heights and impoverished lows of French society.
In 1667 Nicolas La Reynie was appointed lieutenant general of police with the objective of imposing law and order on the disordered city of Paris. A flurry of ordinances cleaned the streets and lit the night. Mud taxes, animal regulations, fines for emptying chamber pots into the streets, and a special tax to place lanterns along the streets (creating the "city of light") slowly improved the quality of life in Paris, even while causing grumbling among the citizenry.
"City of Light" is more than a biography of La Reynie's career. Court life and the machinations of Louis XIV's many mistresses are lavishly described. Juicy court gossip and the tangled love lives of royalty and hangers-on against the backdrop of an expanding Versailles is fascinating. Equally riveting are the stranger-than-fiction details of the underbelly of early-modern Paris.
Tucker takes the reader to the Montogueil quarter, "the most impoverished and godforsaken place in Paris." Place names in the quarter are straight out of a fairy tale. For instance, there is la rue au Bout du Monde (the Street at the End of the World) and a legendary house of thieves and apprentices, half-buried in the ground, accessed by a rickety bridge, and hiding a warren of tunnels and caverns, known as the "Court of Miracles."
Near the Court of Miracles lived Marguerite Voisin. Women from all walks of life visited Voisin for fortunes, potions, charms, and "assistance" with husbands, lovers, fathers, brothers, and rivals. Whether they were seeking love, luck, or retribution Voisin had a remedy. Tucker's recounting of Voisin's recipes and techniques – heaven help the pigeons and frogs of the city – concocted behind her house in cauldrons bring to mind the three witches of "Macbeth."
The very large cast of characters will come together as La Reynie teases a thread that unravels a scandal of enormous proportion, spanning years and all levels of society. "City of Light" gives the reader a sense of Paris as it was evolving into a refined capital city, how women both high and low made their way in the that world, and the changing process of criminal justice. This book will satisfy true-crime fans, history buffs, francophiles, and lovers of historical fiction. Tucker shares her research process in an epilogue. An extensive bibliography, endnotes, a detailed chronology, and  illustrations are included.
Published March 21, 2017
WW Norton & Company
An advance galley of this book was provided by the publisher in exchange for an honest opinion.