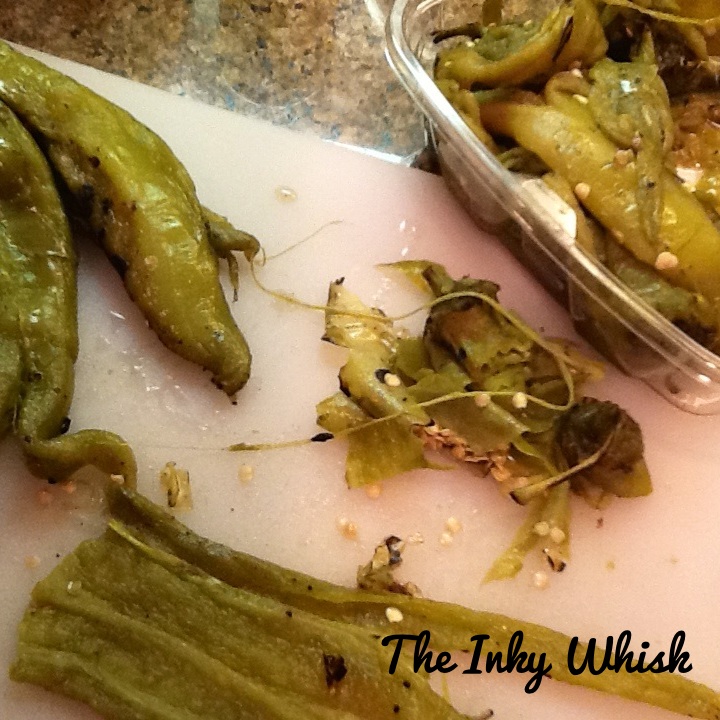 The Hatch chiles have arrived at my grocery store! And just in time because I recently finished last year's chiles. Aren't they gorgeous? I love this time of year when they pull out the big rotary roaster and I can buy containers of the lovely chiles (mild, of course – I admit I am a wimp when it comes to heat.) I know it would be just as easy to roast them myself but It's enough work scraping out the seeds and removing the skin, I don't mind being able to skip a step.
Here is a simple and favorite appetizer my mother used to make that uses green chiles. I am sorry I don't know from where she got it – it has been part of the family repertoire since the 1970s. I hope you enjoy it!
Cheese Pie
1 egg
3/4 cup all purpose flour
1 cup 2% milk, divided
1/2 tsp each salt and pepper
1 cup grated muenster cheese
1/4 cup chopped green chiles
Preheat the oven to 425 degrees. Whisk together the egg, flour, 1/2 cup of milk, and salt and pepper until smooth. Add the remaining 1/2 cup of milk and beat with a wooden spoon until combined. Beat in 1/2 cup of the cheese. Stir in chiles. Pour into a well-greased eight- or nine-inch glass pie plate. Bake 30 minutes. Sprinkle over the remaining cheese and bake five more minutes. The pie will not rise to fill the plate so do not be concerned. Let it cool to room temperature, then slice into triangles and serve.