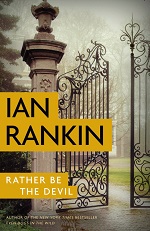 The latest mystery featuring former Edinburgh Detective John Rebus finds him at loose ends. Retired for the last few installments he somehow manages to keep solving crimes, rather than spending his golden years relaxing, or traveling. Fine by me. Ian Rankin's long-running series has yet to disappoint.
While dining at the elegant Caledonian Hotel Rebus is reminded of a notorious murder that took place there – a cold case he has never let go.
In 1978 the beautiful Maria Turquand, wife of a rising banker, was found murdered in the room where she regularly entertained lovers. Also in residence on the night of the murder was musician Bruce Collier, his band, his entourage, fans, and other hangers-on.
Rebus asks former partner DI Siobhan Clarke to let him see the old Turquand files, just to keep him occupied. Age is catching up with him, along with all the years of cigarettes and scotch. So musing over a cold case seems as good a way as any to distract from his former vices. As soon as he starts asking questions about Turquand, though, it becomes clear someone wants this murder to stay in the remote past.
Meanwhile Clarke, and DI Malcom Fox, Rebus' former nemesis, are investigating tensions in the ever-shifting power structure of Edinburgh's criminal enterprises. Aged gangster Big Ger Cafferty, like Rebus, insists he is retired but always seems to be only halfway out the door. Darryl Christie, whose criminal empire has been on the rise in the last few novels, is being targeted. In fact, he was the recipient of a brutal beating –  but is not interested in helping the police figure out the who and why.
Rankin is on that elite tier of writers who can sustain high quality over a long-running series. "Rather Be The Devil" is a satisfying mystery and a thrill to read. Rankin's familiar characters have depth and his plots have an elegant complexity that never seems to bog down. Highly recommended.
Published January 31, 2017
Little, Brown & Company
An advance galley of this book was provided by the publisher in exchange for an honest opinion.