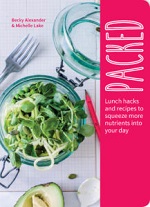 At least five days a week I eat lunch outside my home, and most of the time it is a lunch I have brought from home. I'm spoiled – our break room has a microwave, a toaster oven, and a full-size fridge. I don't need anything elaborate but I can't just throw a sandwich and chips into a bag and call it lunch.
Not many cookbooks are dedicated to the adult lunch. "Packed: Lunch Hacks to Squeeze More Nutrients in Your Day" by British food writer Becky Alexander and nutritionist Michelle Lake, fills that niche with ideas for meals and snacks that will travel well and will fortify you for the second half of your workday.
While not vegetarian, "Packed" is very vegetable-forward, as Lake recommends they make up at least half of your lunch. Published by London-based Nourish, recipes have both metric and imperial measurements and provide U.S.-friendly ingredient names. For instance, the Warm Chorizo, Tomato and Chickpea salad calls for a "large handful of rocket/arugula leaves."
Where "Packed" shines is in the many ideas for midday meals made from obtainable ingredients, with suggested substitution for those times you can't find, or just don't like an ingredient. Most recipes are wallet-friendly as well, with a reliance on stews, salads and curries that stretch ingredients like affordable beans/lentils, veggies, and small amounts of meat. A good number of recipes make enough for just one lunch so you aren't facing the same meal for days on end.
The breakfast chapter (Get Up and Go) is the weakest part of this collection for me, but it is small. "Packed" is primarily about lunch, but there are times you need something made ahead for busy mornings Overnight oats or a muffin (the Date Pecan Spelt muffins sound divine, with less sugar and more fiber than your average muffin) would fit the bill. If you like smoothies (I don't) Alexander and Lake have a few ideas for you. If you avoid grains they offer a couple quick-prep paleo-friendly breakfasts.
Standout recipes are built in jars. Their healthy take on instant noodle soups involves layering simple ingredients and flavorful pastes with quick cook thin rice noodles. All you need at lunch time is boiling water and a few minutes to wait. Some salads and slaws are also layered up, requiring only a quick shake to be ready. These ladies aren't the first to make use of the Mason jar, but the flavor combinations are unfussy and tempting – like Teriyaki Chicken and Broccoli, or Mushroom Cashew and Miso.
Rounding off the collection is a selection of healthy snacks for the afternoon. Spicy popped chickpeas and Good Mood cookies (made with dried fruits, nuts, seeds and oats) are two options more likely to fill you up than something from the vending machine. A nice collection of recipes and inspiration to perk up your lunches.
Published February 15, 2017
Nourish
Linking up with Beth Fish Reads for Weekend Cooking.
An advance galley of this book was provided by the publisher in exchange for an honest opinion.