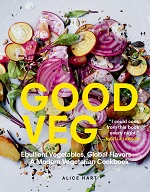 Linking up with Beth Fish Reads for Weekend Cooking.
Brighton-based Alice Hart presents a hefty volume of vegetarian recipes designed to let simple ingredients shine. The full title, Good Veg: Ebullient Vegetables, Global Flavors – a Modern Vegetarian Cookbook, though a mouthful, captures the contents well. As she says, "predominantly this is a book to celebrate fresh vegetables."
Hart's sprightly, convivial introduction lays out her relaxed food philosophy.  That laid-back  spirit is evident in many of her recipe notes as she encourages improvisation and substitution when needed. Refreshingly she understands not everyone lives near a gourmet market or ethnic grocery. Many of Hart's recipes have an international scope with more than a cursory nod to the East. She is mindful of pointing out allergens like dairy, eggs, and gluten, and offering alternatives, even in the dessert section, "Afters." The vegan Toasted Marzipan Ice Cream made with coconut milk is tempting enough to make me consider purchasing an ice cream maker.
Chapter organization is a little whimsical, with catch-all names like Quick, Thrifty (includes batch-friendly recipes), Gatherings, and Rawish. A good index and table of contents makes it easy go back and find recipes.
The first eye-catching recipe is the beautiful mix of pinks and greens on the cover. A gorgeous platter of mandolined raw beets, quartered roasted beets, tangy kefir, and a scatter of homemade mixed-seed and nut dukkah found in the "Rawish" chapter. Gorgeous photography can be found throughout the book, not just the cover. I wanted to eat the page featuring Spiced Turmeric Broth with Roasted Vegetables.
Also sharing the Rawish chapter is a Grated Brassicas and Date salad, featuring thinly sliced kale, mandolined cauliflower and broccoli (I threw in brussels sprouts for good measure) and a bold but well-balanced date-soy dressing. This salad has gone to work with me many times – my infrequently used mandoline has gotten a workout – and the dressing is addictive.
Other standout recipes include a lemongrass tofu banh mi, pot stickers filled with mushrooms and spinach and dipped in a chile black vinegar sauce, baked polenta and sweet potato with halloumi and a salsa of lemon, tomato, green olive, and paneer corn cakes paired with a charred chile salsa. Hart is fond of charring her veg – chiles, scallions, cabbage – an appealing way to bring out their sweetness and color.
She covers fermenting with a few unintimidating recipes including a tempting "ruby red kimchi" using red cabbage. Condiments, including her own vegetarian-friendly "fish" sauce, broths, and the like are covered in the Store Cupboard chapter.
Like many cookbooks she opens with breakfast.  There is some novelty here to get out of a rut with fresh variations on the familiar Bircher Muesli, or you can start the day with Overnight Smoky Baked Beans. There is also a selection of teas and tisanes, including old-is-new-again barley water and a handful of drinks based on barley water. The No-Knead Seeded Breakfast Loaf is made over a couple of days but requires little hands-on time, and is baked in a casserole.
Overall Good Veg is a recommended addition to your cookook library, especially if you are looking for simple but adventurous recipes to perk up your  palate.
Published April 4, 2017
The Experiment
An review copy of this book was provided by the publisher in exchange for an honest opinion.