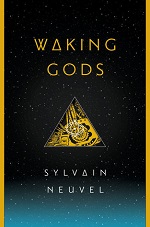 It is to author Neuvel's credit that I was most of the way through Waking Gods (book #2 of The Themis Files, after Sleeping Giants) when I realized I was not just reading, but fully absorbed in a book about GIANT FIGHTING ROBOTS. And I had not rolled my eyes. Not once.
A stellar debut can be a hard act to follow but Waking Gods fulfills the promise of its predecessor with a plot combining elements of pulp sci-fi and international thriller, with a satisfying and tantalizing conclusion promising more to come. Characters we met in Sleeping Giants are fleshed out, given more depth and backstory.
Neuvel knows just how much information to spool out to keep the pages turning. Why is Dr. Franklin missing a chunk of time? Who is the girl in the opening pages having terrifying visions? And why are more robots, larger robots, suddenly appearing in major cities around the world and just standing silently?
Using the same format of telling the story through files, correspondence, transcripts, and recordings, the novel picks up several years after the events of Sleeping Giants. Dr. Rose Franklin is still researching the colossus Themis, which was scattered and buried across the earth by an ancient alien race until, as a child, she accidentally discovered it.
General Govender now oversees Themis, which has achieved a sort of celebrity status, through a coalition of countries called Earth Defense Corps (EDC).  Dr. Franklin, Themis pilots Captain Kara Resnick and Vincent Couture, a linguist, are tasked with unlocking the secrets to Themis' technology.
Still in the picture is the unnamed man from the first book who wields considerable, but shadowy power in Washington and on the world stage – a sort of unseen hand – and a mysterious informant who has a lot of information about Themis' architects, but is unwilling to share all he knows.
Themis Files can appeal to all readers, not just fans of sci-fi because at its core this is a book about human connection at all levels – from one-to-one, to the geopolitical stage, to across the universe. I would recommend picking up Sleeping Giants first if you missed it.
Published April 4, 2017
Del Rey
An advance galley of this book was provided by the publisher in exchange for an honest opinion.