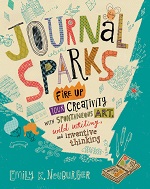 Art journalers, bullet journalers and those who just can't pass up a beautiful blank book will find loads of inspiration in Neuberger's colorful Journal Sparks: Fire Up Your Creativity with Spontaneous Art, Wild Writing, and Inventive Thinking.
An empty page can be daunting. As can the question, what is a journal? Neuberger fills a page with all the many things it can be (at its simplest, "anything with pages that is used to collect ideas") and all the purposes it can have. A journal can be for everything, or it can be used "only when sitting in a tree." The rule is no rules.
Journal Sparks invites the reader to uncap some markers and sharpen those color pencils. Lists, daily events, observations are all embellished with illustration. Neuberger's examples, though, are unintimidating to untrained artists. Simple line drawings with a splotch of color will do. In one exercise she suggests just making dots of color and creating new creatures around them. Or filling a page with swathes of color and coming up with new names, like a paint manufacturer.
Readers also get a peek inside the journals and the processes of the creative contributors like Keri Smith (Wreck this Journal), and Meghan Burch (formerly with the Eric Carle Museum of Picture Book Art).  Something Neuberger and most of the contributors share is a background in arts education. This results in book of projects and inspirations suitable for children, adults – even groups. A section on creative journal-making – from simple saddle-stapled pages, a book made of paper lunch bags, or tiny art journals – can fill the time on the rainy days and lazy afternoons.
Journaling enthusiasts and those looking for a creative jump-start will find plenty of encouragement and motivation in these pages. Included at the end is a pull-out section of templates, patterned papers, stickers, and speech bubbles.
Published March 21, 2017
Storey Publishing
An advance galley of this book was provided by the publisher in exchange for an honest opinion.