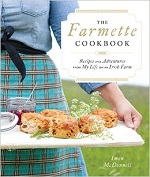 published March 8, 2016
Roost Books
Happy St. Patrick's day! By coincidence I have today a cookbook written by an American big city career girl-turned Irish farm wife.
You would think with the word "whisk" in the title of this blog I would talk more about cooking and cookbooks. I should. I have cookbooks stashed all over the house, recipe cards stuffed into file boxes and piled on the counter, and when I can't decide what to read, I pull out a cookbook and start reading that. This is just the kind of cookbook I would grab on an "I don't know what to read now" day.
First, I could go on and on about how beautiful the publisher Roost's books are. It doesn't matter if the topic is crafts, food, or sheep farming they are beautifully made books that beg to be handled and admired. (This will come up every time I review a Roost book. Just saying.) The photographs in Farmette, most by the author herself, are stunning and do what good food photography should do – they make you want to head into the kitchen and start cooking.
McDonnell's cookbook is born of her blog Farmette (originally called "I Married an Irish Farmer"). In it she shares the many traditional foods and techniques she has learned since moving to her husband's family dairy and poultry farm in Ireland, and the tweaks she has made to have her back-home favorites. For instance her taco night tacos are now filled with locally-smoked salmon, and her blueberry cobbler is made with a similar berry – the fraughan or bilberry – she can find growing wild. McDonnell encourages substitutions for ingredients that might not be found stateside easily. A detailed pantry list also explains possibly unfamiliar ingredients, with tips on where to find them or what would be an acceptable substitute.
This book is extensive at over 350 pages with chapters mostly devoted to a single food: breads (including soda bread, farls, and blaas),  potatos, foods from the orchard, the sea, the forest. She also covers pies (sweet and savory), desserts, the afternoon meal (Country Suppers), and the formal Sunday Lunch. All are a mix of traditional Irish fare, local specialties, and new twists on classics. The opening chapter covers dairy – no surprise from a dairy farm – and it gets down to basics like making butter, creme fraiche, and basic farm cheeses. You may never want to make your own evaporated milk but if curiosity strikes you can find out how in Farmette.
Recipes are detailed and clearly written, with both imperial and metric measurements. That said, a certain level of kitchen experience would be helpful on recipes like the intriguing sounding Dublin Lawyer (a luxe combination of lobster and a whiskey cream sauce), or the sweet cheese danish. Farmette is a cookbook for take-your-time cooking and let's-make-something-different cooking. I recommend this if you love a good collection of unique recipes and stories, or as a gift for a foodie friend.
Happy cooking!
An advance galley of this book was provided by the publisher in exchange for an honest opinion.