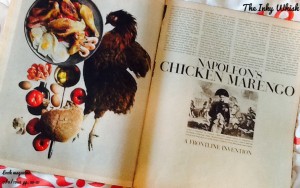 We have accumulated various things over the course of our marriage. Among those bits and pieces of years gone by is a stack of Look magazines. Something about the ads appealed to us and we would spend evenings flipping through the issues pointing out great mid-century furniture, technicolor bright food spreads, and other delights. One night husband showed me an article from the September 9, 1969, issue about the Napoleonic origins of a dish called Chicken Marengo. He asked me to make this odd combination of chicken, crawfish, brandy, and fried eggs and it has been a favorite ever since (with a few minor changes.)
The first thing I changed is the crawfish. I have an uneasy relationship with exoskeletal seafood – I like it until I think about it – so I downsized to peeled and deveined shrimp. I also left out the breadcrumbs called for in the Look magazine recipe because … well, I think  I was out of breadcrumbs at the time. And speaking of bread you will want plenty on hand to soak up the intense garlicky sauce this makes!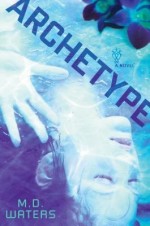 While dinner cooks let me tell you about a book I recently finished, "Archetype" by MD Waters  (and thank you NetGalley and Penguin First Flights for the opportunity to read an advance copy.) Our protagonist Emma wakes in a hospital with no memory. A man named Declan tells her she is his wife, and that she has had a terrible accident. But she dreams another woman's life, and she hears another woman's voice – and that voice tells her she may not be getting the whole truth.
This book is a thriller, a dystopia, and a mystery. It is fast-paced, compulsive reading that kept me up far too late on too many work nights. Fans of "The Handmaid's Tale" by Margaret Atwood, "Before I Go to Sleep" by SJ Watson, and "The Stepford Wives"  by Ira Levin might consider picking up "Archetype." My only complaint is the book occasionally reads like a classic romance novel.  I have nothing against romance, I'm just not fond of capital-R romance novels. That said, it isn't overbearing, and if you like romance novels then that is one more thing for you to like about this book. I give it four whisks (out of five, of course.)
"Archetype" is part one of a two-part series with the second part, "Prototype," due out in July 2014.
Now, let's eat!
Chicken Marengo (serves four)
One chicken, cut up (or whatever combination of bone-in chicken pieces pleases you)
2 TB olive oil
1.25 tsp. salt
2 TB sliced garlic
6-8 large raw shrimp (peeled or unpeeled)
1 can diced tomatoes
1/2 cup brandy
1 tsp dried thyme
1 egg per person
In a deep, wide saute pan brown the chicken in olive oil over medium heat. Sprinkle with salt. Add the garlic and saute one to two minutes. Add the brandy. Lay the shrimp on top of the chicken pieces. Cover the pan and cook 15 minutes. Keep an eye on the heat so your brandy doesn't evaporate completely.
Add the thyme and the tomatoes, pushing them under the chicken pieces. Cover the pan and cook an additional 15 minutes. Again, keep an eye on the heat. You want the sauce to thicken but not cook dry. Check the chicken for doneness – cook an additional five to 10 minutes if needed.
In a separate pan gently fry the eggs to desired doneness and serve over the chicken. Serve with crusty bread to soak up the sauce.