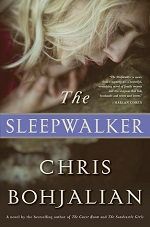 Bohjalian's latest novel is less about the sleepwalker of the title, Annalee Ahlberg, than the bereft family she leaves behind. She disappears in the middle of the night — possibly drowning in a nearby river, maybe falling — leaving two daughters and a husband to find their way forward in her absence.
Taking place over a year in early 2000, the focus is primarily on eldest daughter Lianna who puts off a return to college indefinitely during the search for her mother. All signs point to sleepwalking, but if she was sleepwalking when she disappeared, why is there no body? When the investigation stalls, so does the Ahlberg family. Lianna brushes off questions about when she will go back to school and throws herself into running the household, helping with 12-year-old sister Paige, and her professor father who has started drinking himself to sleep at night. Complicating matters is her attraction to the handsome detective involved in the investigation who knew Annalee from the sleep clinic. Both share the same intense sleepwalking disorder and were a "support group of two" meeting just for the occasional coffee, according to Detective Rikert.
Bohjalian unfolds the Ahlberg's story gracefully with real empathy for the two daughters, one on the cusp of womanhood and one teetering between youth and adulthood, both very much in need of their mother. Lianna spends a fair amount of time in a stoned haze, observing her father, pondering her parents marriage, and wondering whether Rikert was being completely honest about his relationship to Annalee. The writing is elegant, including a beautifully written passage about something you wouldn't expect to be described in such eloquent terms. With an appealing and sympathetic cast of characters and capped with a satisfying twist, "The Sleepwalker" is Bohjalian at his best and will appeal to fans of  domestic fiction with a touch of mystery.
Published January 10, 2016
Doubleday
An advance galley of this book was provided by the publisher in exchange for an honest opinion.