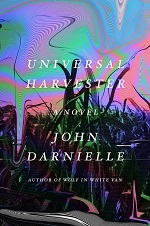 I know this shouldn't matter, but – this novel really has a beautiful cover. In fact, you should feel free to judge this book by its cover. Like the cover, the unsettling, slightly distorted novel inside draws you in for a closer look.
Jeremy's life is stalled in late 1990's Nevada (Ne-vay-duh), Iowa. He works at the local Video Hut lending, shelving, and rewinding VHS tapes. He knows he should be looking for something closer to a career, but Video Hut suits him for now. He brings movies home to watch over simple dinners with his widower father, the mother's death in a car accident several years before a shared sadness they endure together quietly.
When a customer reports a video contains scenes from a different movie, Jeremy thinks little of it, setting he damaged movie aside for return. When a second customer reports a similar problem with a different movie, he decides to take a look – sure enough the first movie suddenly cuts to a static black and white shot inside a barn, with only the sound of someone breathing. After a few minutes, the original movie is back. Jeremy watches the second tape and finds a different, yet similar scene. Soon he is uncovering more of the hidden clips, each short scene more unsettling than the last. He watches them over and over, trying to puzzle out what he is seeing. His boss develops an equal obsession and thinks she even recognizes the barn as one just outside of town.
Unfortunately just as the story is building tension the author shifts focus to all new characters. This is a minor complaint, it is jarring but it all soon knits into the narrative. Darnielle excels at creating a feeling of isolation in wide open spaces. The writing is quiet, moody, and quite beautiful.  Readers expecting horror will find instead a novel of dread and discomfort, with characters looking for a way through loss, longing, and stagnation.
Published February 7, 2017
Farrar, Straus and Giroux
An advance galley of this book was provided by the publisher in exchange for an honest opinion.