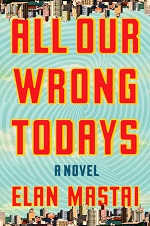 I don't read a lot of time travel books. They tend to make my head hurt, or be romance novels. But the synopsis for All Our Wrong Todays was so compelling I had to give it a go and it was well worth it.
Part of the appeal of Mastai's debut novel is its take on the well-documented (in literature, at least) consequences of monkeying around in the past. Tom Barren screwed up time big time. He lives in the ideal 2016, or, he did. Flying cars, unlimited free energy, prosperity for all. He says, "punk rock never happened in my world. Punk rock wasn't required." All because in 1965 genius inventor Lionel Goettreider turned on the engine that would change the world. But in 2016 Tom will make a rash decision that alters his present to the 2016 we know. Goodbye Jetsons, hello … this?
Mastai takes his time getting the reader to Tom's crucial poor decision. We know it is coming because Tom tells us in a first person narration – a sort of mea culpa/rationalization for what he did and how he did it. Now, stranded in a timeline missing its linchpin moment, Tom must come to terms with his altered world, where he isn't a perpetual disappointment to his father, new relationships are possible, but others never were. Will he, can he –  should he – repair the future? Mastai explores the bonds of family and friendship, and the limitations of genius and hero worship in the time travel framework. All Our Wrong Todays is funny and thought-provoking, with an appealing hero to root for, and if you are hesitant to reach for anything that smacks of sci-fi I urge you to give this a try.
Published February 7, 2017
Dutton Books
An advance galley of this book was provided by the publisher in exchange for an honest opinion.