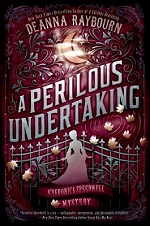 Fans of light historical mysteries should be delighted at the return of plucky Veronica Speedwell, Victorian lepidopterist and budding amateur sleuth.
"Perilous Undertaking" picks up not long after the conclusion of Speedwell's introductory book "A Curious Beginning." Veronica and her taxidermist friend/investigative partner/flirt object Stoker are busy organizing the vast collection of natural specimens accumulated by the family of their friend and patron amateur naturalist Lord Rosemorran. Veronica is chafing at the cancellation of a planned expedition to Fiji after Rosemorran is upended and injured by a giant tortoise that roams his property.
When the incognito "Lady Sundridge" asks Veronica to discreetly look into the murder of an artist friend Veronica balks – the man in prison for the murder will hang, but he refuses to prove his own innocence. But when she is given an offer she can't refuse, she dragoons Stoker into assisting in an investigation that quickly becomes a tour through staid Victorian London's hedonistic moneyed class.
The mystery is standard, if a little convoluted, but Raybourn excels at banter and the playful interactions of Speedwell and Stoker bring to mind some of the great Hollywood screwball pairings – think Hepburn and Grant, or Gable and Colbert — but with more formality, and tea. Characters reveal more of their past this time around, but just enough to make the reader want another installment. Historical mystery fans who don't mind a hint of romance and a touch of the risqué will enjoy this sparkling entry in the further adventures of a singular and independent woman. Fans of Elizabeth Peters' Amelia Peabody, and Laurie King's Mary Russell will find much to enjoy.
Published January 10, 2017
Berkley Books
An advance galley of this book was provided by the publisher in exchange for an honest opinion.