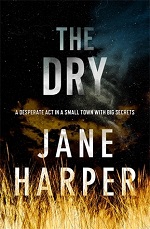 In the drought-ridden farming community of Kiewarra Luke Hadler murders his wife, his young son, and then himself. His stunned father sends a letter to Federal Police Officer Aaron Falk, Luke's childhood friend: Luke lied, you lied, be at the funeral. So begins this stellar mystery debut from Australian journalist Jane Harper. A slow burn about small town life, old and new gossip, and going home again.
Kiewarra is parched and residents are stressed.  It isn't the most unlikely thing in the world that someone would snap but Luke's parents have questions. A local police sergeant isn't satisfied either, even if others consider the case closed. Curiosity and those loose ends overpower Falk's initial reluctance to spend more time in a town whose residents are less than pleased at his return, and to involve himself in a police matter outside his jurisdiction and expertise – he investigates financial crimes, not murders.
Two decades ago Aaron and Luke were each other's alibis when Aaron's girlfriend Ellie was found dead. The investigation was dropped but Ellie's volatile family and suspicious neighbors made life in Kiewarra unbearable. Aaron's father decided to pull up stakes and move them away for a fresh start.
Past and present inch closer together as Harper deftly alternates between Falk's memories leading up to Ellie's death with the current investigation in to the Hadler family deaths. Falk is a well-developed character, methodical, and haunted by a past he can't unravel, but for which he has had to shoulder a lot of blame. Heat, financial strain, and the weight of secrets give a noir feel to this quiet mystery that builds to a satisfying conclusion. Harper won the 2015 Victorian Premier Literary Award for an unpublished manuscript with this debut and is an author to watch.
Published January 10, 2017
Flatiron Books
An advance galley of this book was provided by the publisher in exchange for an honest opinion.