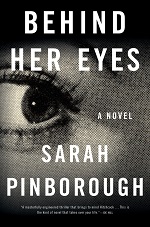 Are you tired of being told every book is "the new Gone Girl"? I won't tell you that about Behind Her Eyes, but I will say it's a fine domestic thriller with a love triangle, a hint of the supernatural, and a ferociously good twist.
Louise, a divorced single mother, has a drunken grope with a man at a bar one night. A man who turns out to be married and, as she finds out the next morning, her new boss, Dr. David Martin, psychiatrist. They agree to set aside the night as an awkward fluke that won't happen again. When Louise runs into his wife, Adele, by chance they bond almost instantly. Adele, with her mysterious past and seemingly isolated existence, is thrilled to have a friend. Louise is torn when her loyalty to her new friend is tested by her and David's mutual attraction.
Pinborough alternates short chapters between Adele and Louise, slowly pulling away the layers of the story and keeping the reader constantly off balance, see-sawing sympathies from character to character. Is David overbearing and controlling or is Adele in need of a keeper? What keeps them together – a terrible secret? A promise, an obligation? Culminating in a satisfying twist that will surprise most jaded thriller readers, Behind Her Eyes is a must-read for those who love a tale that keeps them on their toes.
Published January 31, 2017
Flatiron Books
An advance galley of this book was provided by the publisher in exchange for an honest opinion.