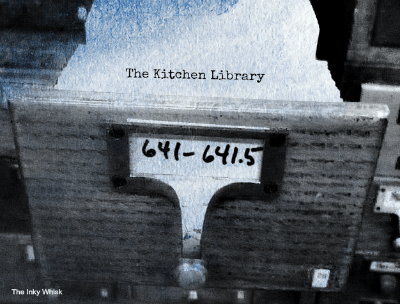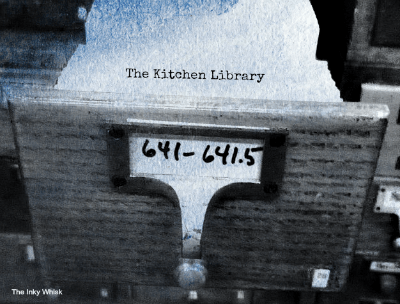 Buying an old cookbook – one that has been used – usually means you are buying an altered book. Marginalia, mini-reviews ("good!" or "Do not make again" or "Dad's favorite,") and extra recipes scribbled on the endpapers, are common. It is easy to spot the well-loved recipes because those pages bear stains and splashes, along with penciled-in modified quantities and cooking times.
The best extras flutter from the pages when you shake a new-old cookbook. Recipe booklets, newspaper tear-outs, shopping lists, and recipe cards are frequent fellow travelers in an old well-loved cookbook sent on to the book sale.
I'm guilty of marking my place with the same kinds of ephemera. Someday I suppose someone will find the Guinness Pork Chop recipe I printed off a website in 1997 and stashed in a cookbook. (I really did find this in my "American Woman" cookbook while I was gathering items for this post. I remember searching my recipe box over and over years ago for that damn paper and finally giving up and copying it onto a card from the website.)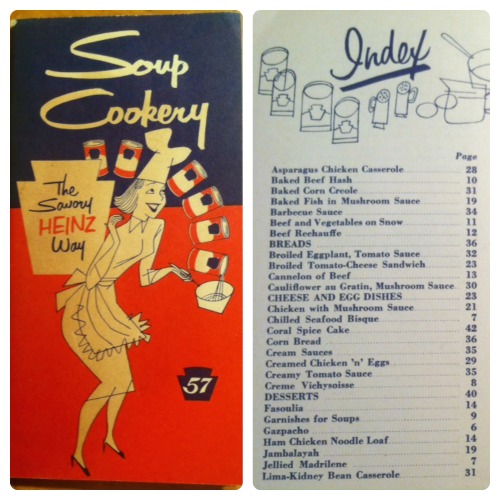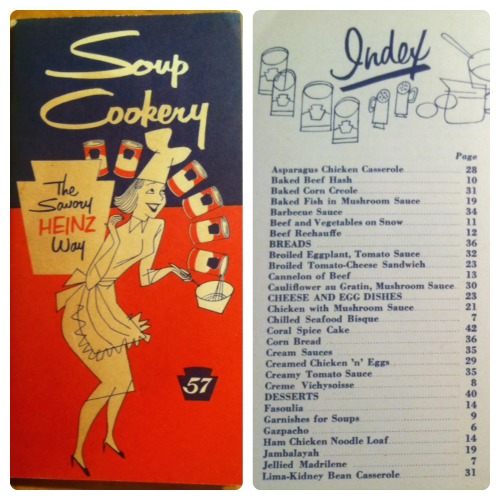 One of my favorite serendipitous finds is the Heinz Soup Cookery booklet. I have never made a thing out of it I just love the illustrations. Look how happy the cover chef is with all her soup cans! Dinner in a snap! This 45-page booklet is from around 1955. I know this because Michigan State University has a fantastic collection of these little company-sponsored recipe booklets. I was able to find a number of mine right on their site. It's a fascinating collection and most of the full booklets are digitized.
Little Cookbooks: The Alan and Shirley Brocker Sliker Culinary Collection at MSU Libraries
This "Soup Cookery" book covers all aspects of meal planning from appetizer to salad to bread to dessert – for instance, the Coral Spice Cake made with – you guessed it – tomato soup. Do you prefer candy to cake? Spice drops can also be made with tomato soup.
Another circa 1955 find in the same book was a fold-out Knox gelatin flyer with numerous recipes and suggestions for using their product. A good number of the recipes are for variations on the classic chiffon pie. Not included, but suggested as a use for one of the four included packets is a tomato aspic, and Perfection Salad. Do you know what Perfection Salad is? It is iconic, to say the least, involving gelatin (in some versions, lime gelatin), shredded cabbage, carrots, and red pepper. Sometimes a mayonnaise-based dressing was involved. It does not sound appealing to me, but the recipe certainly had staying power (invented in 1905), and aspics definitely had their day, so I won't judge.
Moving into what I assume is the 1970s or maybe early 1980s I have a booklet torn from a magazine for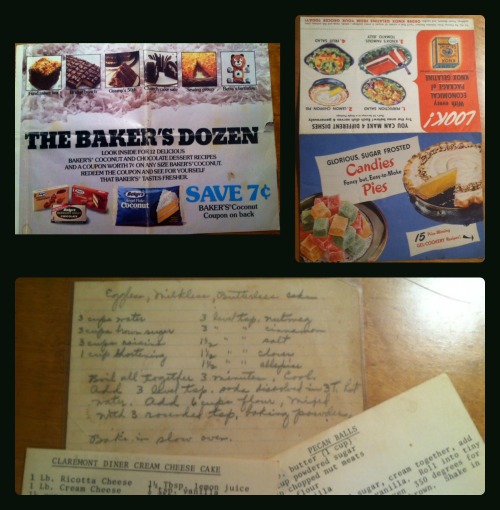 Baker's Coconut. Removed from the last page was a coupon. For seven cents. This booklet provides recipes for all the events that might be on your baking calendar – a church gathering, little Betsy's birthday, bridge night, and a sewing party. For the sewing party Baker's Coconut suggests an Impossible Coconut Pie. Do you remember "Impossible" pies? Those magical blender Bisquick recipes that created their own crust while baking? I remember my mother making the coconut pie in particular and giving me slices cold out of the fridge.
Recipe cards, yellow with age, are a common find. In the photo at left I can tell you the bottom two came from a book that was my Nana's. Apparently she typed – TYPED – her recipe cards. Imagine that. The handwritten card is a found recipe. I thought it might be a relic from rationing since it is for an "Eggless, Milkless, Butterless Cake." It calls for a whopping 2 cups of brown sugar, though, which I thought was also rationed? Perhaps this is just an early vegan dessert.
So what treasures have you found in your vintage cookbooks?
Linking up with Beth Fish Reads for Weekend Cooking.
photos are © The Inky Whisk