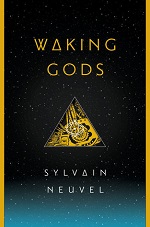 It is to author Neuvel's credit that I was most of the way through Waking Gods (book #2 of The Themis Files, after Sleeping Giants) when I realized I was not just reading, but fully absorbed in a book about GIANT FIGHTING ROBOTS. And I had not rolled my eyes. Not once.
A stellar debut can be a hard act to follow but Waking Gods fulfills the promise of its predecessor with a plot combining elements of pulp sci-fi and international thriller, with a satisfying and tantalizing conclusion promising more to come. Characters we met in Sleeping Giants are fleshed out, given more depth and backstory.
Neuvel knows just how much information to spool out to keep the pages turning. Why is Dr. Franklin missing a chunk of time? Who is the girl in the opening pages having terrifying visions? And why are more robots, larger robots, suddenly appearing in major cities around the world and just standing silently?