Well, the dreaded cold came for me after all! So on this St. Patrick's Day (after a week of sneezing, coughing, sleeping, and not much else) I am reposting this review from exactly one year ago of the delightful "Farmette Cookbook!"
Linking up with Beth Fish Reads for Weekend Cooking.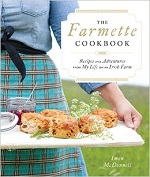 published March 8, 2016
Roost Books
Happy St. Patrick's day! By coincidence I have today a cookbook written by an American big city career girl-turned Irish farm wife.
You would think with the word "whisk" in the title of this blog I would talk more about cooking and cookbooks. I should. I have cookbooks stashed all over the house, recipe cards stuffed into file boxes and piled on the counter, and when I can't decide what to read, I pull out a cookbook and start reading that. This is just the kind of cookbook I would grab on an "I don't know what to read now" day.
First, I could go on and on about how beautiful the publisher Roost's books are. It doesn't matter if the topic is crafts, food, or sheep farming they are beautifully made books that beg to be handled and admired. (This will come up every time I review a Roost book. Just saying.) The photographs in Farmette, most by the author herself, are stunning and do what good food photography should do – they make you want to head into the kitchen and start cooking. Continue reading →